Gallery 17, Fitzwilliam Museum, Cambridge; photo © Fitzwilliam Museum
Gallery 17 is the name of the room with flower still lifes in the Fitzwilliam Museum.
"This gallery contains a stunning collection of flower-paintings by Dutch, Flemish and French artists from the 17th-19th centuries."
But, alas, I don't find these paintings
stunning
at all... I tend to dash through this room with eyes fastened firmly on the exits straight ahead. But even as I rush along, I can't help noticing, in passing, the blurred masses of dullness: wilting flowers, dead leaves, browned stalks, meticulously detailed chrysanthemum petals, tulip petals, poppy petals, the petals of flowers whose names I don't know and never want to learn. Endless acres of this tedious stuff, from floor to ceiling, all herded into this one uninspiring room of the Fitz.
Photo © Fitzwilliam Museum
Why stop? Why not hurry onwards to see Rembrandt, Rubens, Raphael? Lush nudes, cute babies, gorgeous landscapes, challenging abstract paintings?


Why stare at a still life?
As promised in my last post which was
all about how to look at a boring painting -- and why
, I went and tasted a dose of my own medicine: I went to the museum to be bored. To be bored, but also determined to have
at least one interesting thought about my boring painting
.
I chose to look at two flower still lifes. I gave myself ten minutes per painting.
The first one I chose is this
Still Life with Boring Flowers
-- whoops, sorry, I mean:
probably between 1800 and 1850.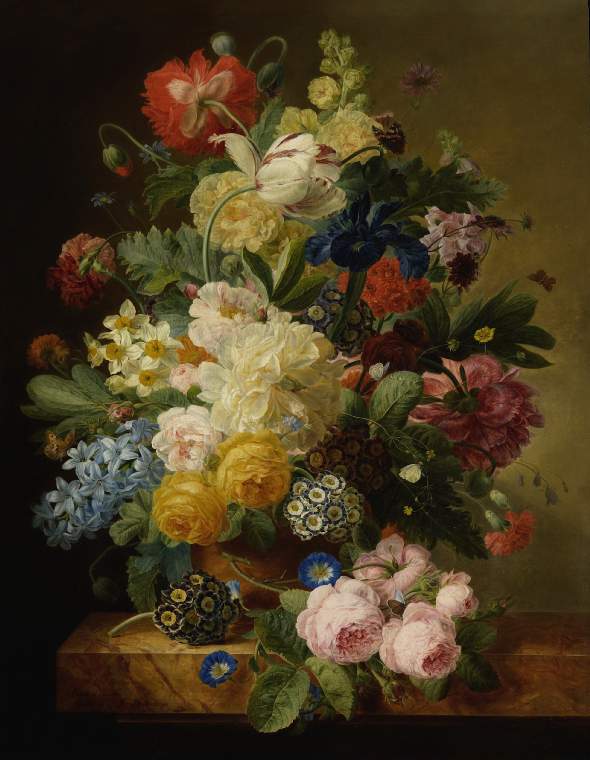 Mélanie de Comoléra, Vase of Mixed Flowers, image source: © Fitzwilliam Museum
It's of course immediately interesting that the picture is painted by a woman. Try going to your local museum and counting the number of works of art made by women... Unless your local museum is the
National Museum of Women in the Arts in Washington
, I will bet that you're going to find precious few women artists.
Works by women are also few and far between at the Fitz so let's be thankful for this one!
The full title of the painting, as listed on the label next to the picture, is Vase of Mixed Flowers, including poppies, auricula, daffodils, hyacinths, asters, carnations and a foxglove on a marble ledge with sprays of auricula and roses, copied after Jan van Dael (1764-1840).
Two things about this title:
1) A title should not be a list of every single thing we can see.
2) What a pity that our joy at finding a woman artist is here tempered by the information that, oh, it was only a copy after a man's painting. Still: if there was call for a copy, the painting must have been popular!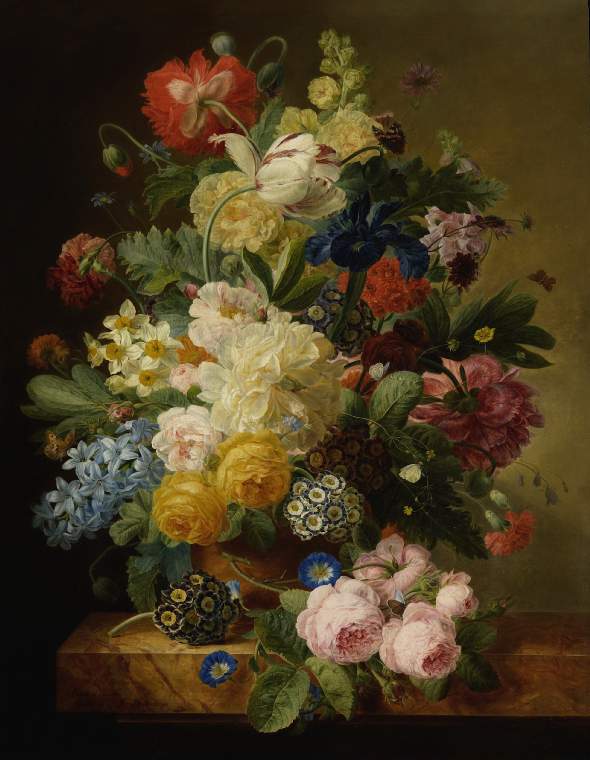 Flora
The gardeners among you will recognise all these flowers but the only species I can identify are the roses and the poppies. All else is an airless, stifling profusion of petals, blossoms, leaves, tendrils and stems, crammed together against a dark background.
Some flowers are seen from below or from the back. Some (like the poppy at the top) unfurl in bud form next to their full blooms. Many of them are so top-heavey that they seem on the verge of wilting. Thus, in the midst of bursting life: the imminence of death.
To me, these fat flowers are sickly in their fertility and slick colourfulness.
We see different shapes and colours: velvety pink; waxy green; tight buds in clusters; palest pink and white; yellows, reds, blues.
Do these flowers even all bloom at the same time?
There is a butterfly at right, tiny and brown next to the pink, blue, white and yellow cacophony in the vase.
And there seems to be another murky butterfly creeping around among the foliage at left.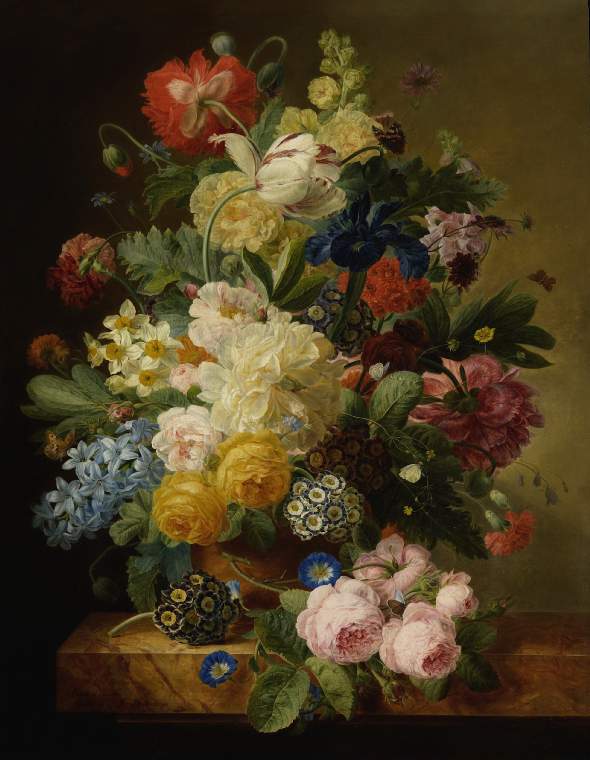 The flowers are all stuffed into a vase: how can it hold them all? And the ledge: where is that positioned in space?
In among the thicket of vegetation, there's a kind of jungle perspective.
The shape of the bouquet respects the edge of the canvas. No flower is cropped.
Whites and yellows are grouped along the centre. Darker colours sit around the edge. And pink anchors the composition below.
Frame
The whole picture is surrounded by an ornate gilt wooden frame that echoes the flower motif with its own vegetal ornaments and arabesques. Reproductions always never include the frames of pictures which is a pity because it makes every picture look like a postcard.
Here's my sketch of the painting with the frame included:
Who was Mélanie de Comoléra?
Almost nothing is known about this painter. Her dates are variously given as 1789-1854 or 1800-1860, or as 'active 1816-1854'. She apparently worked in Sèvres (France) and London. Her art teacher in Paris (probably in the early 19th century) was the Dutch floral painter, Gerard van Spaendonck, who also taught other women to paint flower still lifes: the Marquise de Grollier, Thérèse Baudry de Balzac, Henrietta Knip, Madame Peigne and Madame Vincent (see Germaine Greer,
The Obstacle Race: The Fortune of Women Painters and their Work
, 1979, page 244).
Gallery 17. Mélanie de Comoléra's painting is at left, above the cabinet.
Tune back in for the next installment of how I studied a boring painting. Coming up next:
Jan van Os,
Vase of mixed flowers, including poppies, Crown Imperial, tulips, roses, auricula and gentian on a stone ledge with a bird's nest, grapes, melon and peaches, with a garden behind
.