Three exhibitions to visit in January 2013
1. Snow Country: Woodcuts of the Japanese Winter
Utagawa Kuniteru,

Rolling a snow ball,

c.1840
Source: Explorer Magazine
If you haven't yet seen this exquisite exhibition, you have another few days before it closes! I saw it just before Christmas and was entranced. It's an intimate atmospheric show and nicely focused. The print above shows you some children building a snow rabbit. No catalogue, alas!
Where:
Fitzwilliam Museum
When:
Ends Sun, 13 Jan.
Tues-Sat 10-5. Sun 12-5.
Free.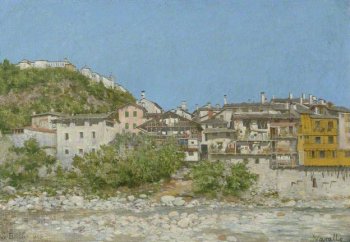 Samuel Butler, Landscape, Varallo (oil on canvas, 1885)
Source: St John's
This is the Victorian man-of-letters Samuel Butler who wrote
Erewhon
and
The Way of All Flesh.
He apparently also travelled to Italy a lot and painted what he saw there. A one-day chance to see St John's collection of his works.
Where:
St John's College, Old Library.
When:
Sat, 12 Jan 2013. 10 am - 4 pm.
3. Stray Artists @ ArtCell
An out-of-the-way gallery that I had not heard of before and that intrigues me. I'll try and visit this month! Then I will report on it. Let me know if you've been (or plan to go).
Where:
ArtCell. Gallery at Cancer Research UK, Robinson Way on Puddicombe Way, Addenbrooke's Hospital, CB2 0RE. Off Long Road.
When:
Mon-Sun 10-5. Ends 9 Feb 2013.
For more:
Check out
my pinterest board of what's on in the Cambridge art world
.
Related posts:
•
Five exhibitions to see in London
.
• Last month's
Five exhibitions to visit in December
. (Did you get to any of these?)
Permalink: http://artincambridge.blogspot.com/2013/01/three-cambridge-exhibitions-in-january.html