It's that time of year again. Soon, we will again have the privilege of glimpsing into the studios, homes and gardens of our local artists in Cambridge and surroundings. I've started to plan my weekends -- and save my money... NOT. Last year, I overspent my budget. But I love, love, love the art on my wall. There is nothing like it.
Before I go on:
The local art world is weirdly different from the art world at large -- which, in Britain, is defined by London. Although I suspect that in London, too, there are sub-sets of local art worlds. Main thing that springs to my eye:
the many women artists.
Here's a statistic:
This year's Cambridge Open Studios has:
• 102 women
• 73 men
(and some where I couldn't tell from their names)
Compare that to
these sad London statistics
:
• Of artists represented by 134 commercial galleries, 31% are women.
• The 2012 Art Frieze Fair had 27.5 % women artists.
• Of Tate Modern's collection of artists 1900-1965, 19% are women.
But in 2011-12, almost 62% of English art college graduates were women - a figure more representative of what 's going on in Cambridge.
My pick of 16 artists to see over 4 weekends:






Weekend 1 (5-6 July):
Melanie Max (brochure page 9)
I love her icy colours. I visit her every year. Murray Edwards College (New Hall).
Melanie Max, Winter Light

Helen Martino (brochure page 9)
A fun studio on Huntingdon Rd, across the road from Murray Edwards. Tons of small
objets
.
© Helen Martino, Cuddling

Sarah Carter (p.15)
Haven't seen this artist before but looking forward to doing so this year. Fen Road, Chesterton. A bike ride along the river!
© Sarah Carter, Metropolitan

Jane Evans (p.31)
I've visited this studio for several years now. Lovely welcoming atmosphere (and sometimes you get a juice or a little snack). Chinese-type paintings, some of local subject matter - which is fun.
© Jane Evans, Ely in Autumn

Kye Sook Park (p.35)
I discovered this Korean artist last year. Displayed in the parish hall of OLEM (Catholic Church) on Lensfield Rd. Some scenes are of Grantchester and other local places. She's only there in Week 1.
© Kye Sook Park, Always Love You
Weekend 2 (12-13 July):
Alison Litherland (p.11)
The ever-popular
cows
. Green's Rd, off Victoria Rd (there are other studios there, too).
© Alison Litherland, He Looks Tasty

Esther Melamed (p.12)
I am so proud of Esther, my former student. She sculpted the diving bather in the lobby of Parkside Pool and makes magisterial stone sculptures. Same address as Litherland's cows.
© Esther Melamed, Perseverance

Emma Will (p.15)
In Chesterton. I keep meaning to visit these quirky driftwood things.
© Emma Will
Weekend 3 (19-20 July):
Jeremy Mulvey (p.22)
I love this artist's work. Don't miss out! Really worth a visit. Mysterious scenes, lush colours, also some gorgeous flowers (as far as I recall from last year). Maid's Causeway, weeks 2 and 3.
© Jeremy Mulvey, Museum Staircase

Jim Butler (p.26)
A great artists and illustrator who teaches at the Cambridge School of Art. Collages scenes of Cambridge and elsewhere, with glued-on bus tickets and othe debris.
© Jim Butler, Cambridge xliv

Richard Swan (p.26)
I don't know this artist but this graphic work looks lovely. I like the clean lines and Japanese mood. Coldhams Lane, at the end of Vinery Rd (off lower Mill Rd).
© Richard Swan, Bridge

Chun-Chao Chiu (p.34)
Another artist who paints Cambridge (and other scenes) in a Chinese style. Rayleigh Close (off Bentley Rd, which is off Trumpington Rd, between Brooklands Ave and Long Rd). A bit of a hike (unless you live there) but there's another studio next door, and it's a nice interesting road. Not sure you can get there from the back via Hobson's Brook bike lane...?
© Chun-Chao Chiu, King's College, Cambridge

Weekend 4 (26-27 July):
On Weekend 4, we head out of Cambridge.
Cheryl Warren (p.44)
I visited this artist last year and liked her range of paintings: from huge wall-filling works to tiny, affordable, intimate pictures. Bright colours. She used to be off Mill Road; now she's out at Burwash Manor (always a nice visit).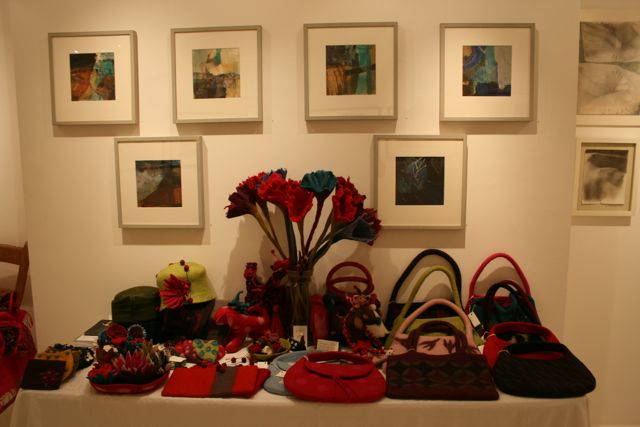 Paintings © Cheryl Warren
Felted bags © Freya Zinovieff
Source of pic: higgledygarden (2010)
John McGill (p.44)
Out in Toft (Comberton Rd). A big barn of a studio with weird and wild metal concoctions
.
Very 'fantasy' and a bit steam punk, too.
© John McGill, Ladon

Derek Moss (p.44)
Shares the open studio with John McGill (above). Amazing sculptures in the dream-like magic garden, like things that grow there. Quite political, too.
© Derek Moss, Drift

Sue Rapley (p.50)
In Whittlesford, south of Cambridge (between Shelford and Duxford). The trip is worth it as there are other studios there as well. And who can resist these sheep?
© Sue Rapley, Spring Fields

Have a fabulous time planning your Open Studios!