The extraordinary story of the two Cambridge bulls
Remember the two astonishing bull sculptures at Deloitte on Hills Road that I
blogged about earlier this month
?
Deloitte got back to my twitter query and told me that these sculptures are by
Isidore Jules Bonheur
(1827-1901).
Isidore Bonheur,
Bull
, c.1878, bronze. Deloitte, Cambridge
What a remarkable revelation!
19th-century might and masculinity
Isidore Bonheur was a 19th-century French sculptor. This means that these sculptures were imported from what was then the leading centre of the European art world -- Paris. Made during an era when this kind of sculpture was a central part of art-making. Isidore Bonheur exhibited at universal and other exhibitions, and won a number of gold medals and awards.
These bulls express all the confidence of the 19th century. They are big and brash and secular; they stride belligerently into a future of industrial and commercial promise.
They are part of a Europe that is at the height of its political and imperial power, full of arrogance and ambition and belief in its place in the world.
Isidore Bonheur, Detail of
Bull
, c.1878, Deloitte, Cambridge
But they speak to me also of other things: of the price to be paid for being top of your game. Of masculine braggadoccio and its flipsides: anxiety about rivals, the need to be always one step ahead, patriarchal posturing with no real substance.
Isidore Bonheur,
Bull Pawing the Ground
, c.1878, bronze. Deloitte, Cambridge
Here's another remarkable fact: Isidore Bonheur was the brother of Rosa Bonheur.
Rosa Bonheur
Rosa Bonheur was a hugely successful animal painter. She was also one of the few women artists to succeed within the artistic mainstream of the 19th-century.
Rosa Bonheur. Source: Les amis de Rosa Bonheur.
You can see her painting
Horse Fair
(1855) in the National Gallery in London: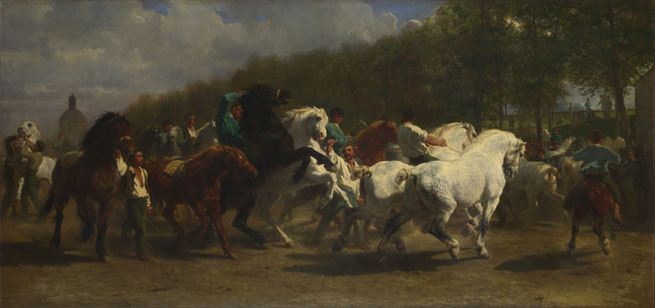 Rosa Bonheur, Horse Fair (1855). Source: National Gallery, London.
Here is the Bonheur family: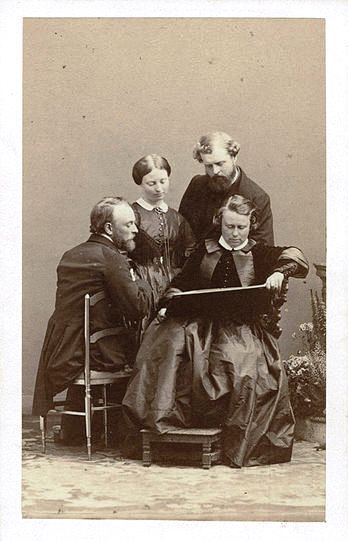 Source: Le piéton de Paris.
Rosa Bonheur is seated and holds a print. Isidore Bonheur stands behind her, with the snazzy ringlets above ears and forehead. It was Rosa who apparently taught her little brother his first artistic skills.


Isidore Bonheur
What else did Isidore Bonheur sculpt?
Mainly animals. And of those animals, mainly powerful prowling or prancing mammals.
Isidore Bonheur, Legionary on Horseback, Sainte-Anne Hospital, Paris.
Source: Wikipedia,© Siren-Com.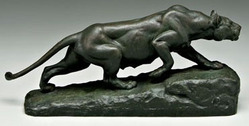 Isidore Bonheur, Prowling Lioness. Source: Prices 4 antiques.
Isidore Bonheur, Lion and Mouse. Source: Live auctioneers.
And, what a surprise: quite a lot of bulls.
Isidore Bonheur, Bear and Bull. Source: frbronze.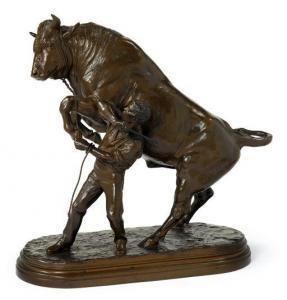 Isidore Bonheur, Rearing Bull with Handler. Source: Arcadja.


From Paris to Cambridge
Here is a version of our very own Cambridge bull:
Rosa Bonheur. Source: Wikipedia.
This bull is a public statue. It's one of a pair. They face each other across the entrance gate to the Georges Brassens Park in Paris.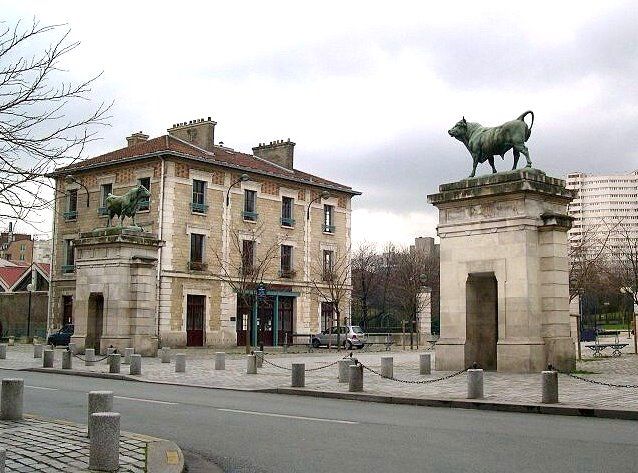 Parc Georges Brassens, Paris. Source: Le piéton de Paris.
The bulls are reminders that this Park was once an abattoir. According to Le Piéton de Paris, Rosa Bonheur used to visit this abattoir regularly, in order to study the animals for her own paintings.
The two Park bulls are based on the two bulls that Isidore Bonheur exhibited at the Paris Universal Exposition in 1878. The one with the lifted head stood on what was to be the future west base for the Eiffel Tower, the other (the one with the lowered head) stood on the north base. Brilliant pictures of these bulls at the Expo are at Piéton de Paris.
Universal bulls
Our Cambridge bulls are versions (copies? casts?) of those Universal Exposition bulls. What an illustrious pedigree!
I wonder when Deloitte acquired them? The Deloitte accountancy firm was founded in 1854, according to the
Deloitte website
; 1845, according to
Wikipedia)
. I don't know when they opened their Cambridge branch or when they bought these two bulls. But I like to think that they purchased them in the wake of the Universal Exposition, in the late 1870s or early 1880s. As a tangible symbol of their ambitions to be
universally
important. (They opened their first New York office in 1880).
Two bulls in a Cambridge office lobby. And such a fascinating history. Who would have thought it?
Read more:
All about Isidore Bonheur:
Wikipedia
.
All about Rosa Bonheur:
Les amis de Rosa Bonheur
(in French).
All about the bulls in Georges Brassens Park, Paris:
Le piéton de Paris
(with fabulous pics; in French).
My first blog post about the Cambridge bulls:
Cambridge bull sculptures
.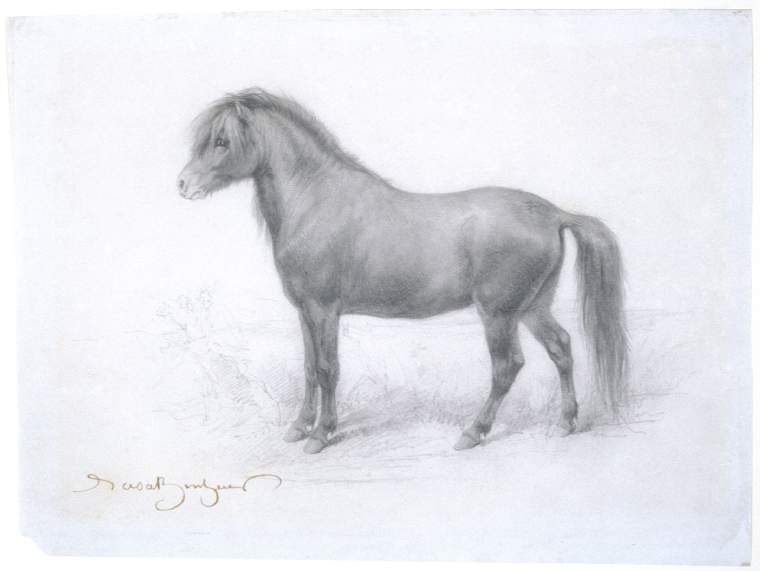 Rosa Bonheur, drawing of a pony, Fitzwilliam Museum, Cambridge. Source: Fitzwilliam Museum.